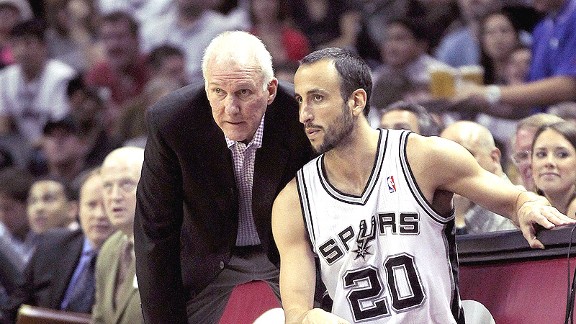 The Spurs' Front Line Rotation - DeJuan Blair received his first meaningful minutes of the playoffs in Game 4 and it changed the complexion of the game in the second half. While his box score line may only show two points and two rebounds, his energy and ball hawking helped cut a 15-point Thunder lead all the way down to three. It was a moot point though as Kevin Durant played on a different level in the fourth quarter, but it begs the question of "what if" in regards to the Spurs first half struggles. Coach Pop tends to lean stubborn when it comes to lineup changes in the playoffs (see George Hill in 2009), but one does have to wonder if Blair will find himself on the court more in Game 5.
Role Players – Spurs guard Danny Green virtually disappeared in OKC and has had an underwhelming series as a whole. When he does play well though it happens at home. Will he step up and contribute in Game 5 or possibly lose his place in the starting lineup? Thunder forward Serge Ibaka went 11-for-11 in Game 4. Will any momentum from that carry over on the road trip?
Getting To The Line – As this series gets more physical the feeling that both teams will be heading to the free throw line more in Game 5 is becoming omnipresent. Which team will play with the aggressiveness to dominate from the charity stripe? And will it be at the cost of their offensive rhythm? Will any of the major players foul out as we have seen in the Eastern Conference Finals?